Facial Treatments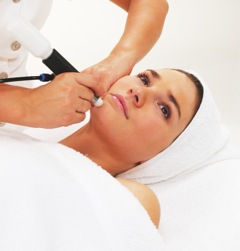 Introduce your skin to the benefits of professional specialist skincare treatments given by skilled, experienced knowledgeable therapists.  
CRYSTAL CLEAR COMCIT FACIALS
The most exciting anti-ageing treatment yet
COMCIT goes far beyond conventional treatments.
This is the first time all of these skin rejuvenation modalities – Cryo-Oxygen, Micro-channelling Collagen Induction Therapy – have been included in one treatment exclusively by Crystal Clear and the results are incredible.
During your treatment our Cellular Infusion Solution is driven into the skin through the Micro-channelling Roller to the layer where ageing begins.
These 4 modes of action incorporate Freeze Therapy, Oxygen, Micro-channelling and Skin Infusion work simultaneously and in harmony, to encourage your skin to naturally repair itself by increasing Collagen production.  Your skin is left beautifully hydrated, with an instant firming and plumping effect.
*Instantly smooth, fresh, firmer plumper and more youthful skin
*Reduced lines and wrinkles
*Tauter, more rejuvenated skin
*Provides oxygen to all levels of the skin
*Stimulates Collagen production at a cellular level
*Helps repair sun-damaged skin
*Perfect for acne-prone skin [due to anti-bactericidal effects of both
oxygen and the infusion
Results are immediate. Due to the simultaneous action of four skin rejuvenation technologies, you will notice the difference after your very first treatment.  Your skin will be beautifully plumped and feel firmer.  The result will get better and better as new Collagen production is kick-started around day 14. 
For a total rejuvenated skin we recommend a course of 6 treatments, taken 2 weeks apart.
COMCIT FACIAL TREATMENTS
Introductory Offers
COMCIT Cryo-Oxygen Micro Channelling Facial
1 hour
£115
Pay for 5 and receive 6th treatment free
£575
COMCIT Cryo-Oxygen Micro Channeling
Microdermabrasion Facial
1 hr 15 mins
£130
Pay for 5 and receive 6th treatment free
£650
Oxygen Facial
45 mins
£80
Pay for 5 and receive  6th treatment free
£400
Oxygen and Microdermabrasion Facial
1 hour
£95
Pay for 5 and receive 6th treatment free
£475
Crystal Clear Microdermabrasion "the celebrities favourite treatment"
A versatile facial that treats numerous skin types including dull, dehydrated skin, fine lines and wrinkles, congested and acne prone skin, acne scarring and sun damaged skin. 
This treatment in conjunction with the Mini Lift Mask  the 'Crystal Clear Deluxe'  helps improve wrinkle depth and this in turn smoothes, plumps and hydrates.  A brilliant skin rejuvenation  facial.
Crystal Clear Microdermabrasion
30 minutes
£55
Course of 6
£275
Crystal Clear Deluxe Facial - 1 hour
£70
CACI Ultimate
The most advanced non-surgical face lifting treatment available
The CACI Ultimate Facial System uses exclusive technologies delivering excellent visible results.  This anti-ageing treatment system works by re-educating, toning and firming muscles and softening and smoothing the appearance of fine lines and wrinkles.
Visit www.caci-international.co.uk for more information.
CACI Ultimate Facial
60 mins
£70
Course of 12 
£770
The CACI Ultimate facial is electrical energy that stimulates and re-educates the muscles to either contract or relax.  Consequently, muscle tone is improved, facial contours are re-defined and lines and wrinkles are softened and smoothed.
CACI Ultimate Hydratone Facial
75 mins
£80
Course of 6
£400
CACI Ultimate Facial with added Active gel mask infused with powerful hydrating properties [Collagen, Hyaluronic Acid, Vitamin C & Vitamin E].  Instant rejuvenating energy.
CACI Ultimate Jowl Lift Facial    
75 mins
£77
Course of 12
£847
Can be paid in 2 instalments of £385.00
This is the full CACI facial with the added 'jowl lift' which improves the muscle laxity along the jawline.  We use specially designed jowl probes to maximize the firming effect.
CACI Ultimate Jowl Lift    
30 mins
£43
Course of 12
£473
This treatment only treats the lower half of the face and is designed to strengthen and firm the jawline, soften lines and creases in that area.
SUPER CACI Ultimate Facial     
90 mins
£87
Course of 12
£957

Full CACI Ultimate Facial with 2 extra enhancements suitable for your needs.  Choose from Microdermabrasion, Jowl Lift quad probes to strengthen and firm the jawline or Wrinkle Comb Revolution combined with CACI's Amino Lift Peptide Complex designed to soften and smooth lines and wrinkles.  Superb  for that extra boost.  Your therapist will advise which options will be best for you.
CACI Eye Revive Treatment
30 mins
£45
Course of 10
£495

This treatment is designed to reduce under eye puffiness, lift drooping eyelids and soften the appearance of fine lines around the eye area.
CACI Lift and Smooth
45 mins
£65
Course of 12
£325

Using the Jowl Lift quad probes and wrinkle comb LED light applicator.  Great for special occasions or when your skin needs an extra boost.
GET READY TO GLOW
Dermulux LED phototherapy – a non-invasive treatment that uses clinically proven therapeutic light energy to trigger the skins natural rejuvenation and repair processes without pain or downtime.
From the first treatment Dermalux instantly boosts the complexion to restore vitality and glow.  A treatment  course offers cumulative benefits and can be targeted to specific skin concerns for the face and body with lasting and visible improvements.
We believe everyone deserves beautiful skin.  Discover the benefits of Dermalux as part of your essential skin health regime.
Stand alone 20 mins treatment
£45
Pay for 10 and receive 2 free
£450
Add on with another treatment
£25
Glycopeel Facial
45 mins
£80
A glycolic acid based treatment that will help boost collagen production, reduce the appearance of fine lines, giving back radiance and luminosity to the skin.  Excellent for acne, oily skin and open pores –  Revitalises mature ageing skin – Hydrates and brightens tired skin.
Anti-ageing ~ Firming ~ Brightening.
Course of 6
£400
Gernetic Prescriptive Facial
1 hour
£60
A truly balancing and relaxing facial combined with brilliant active plant based products to repair damaged skin, replenish essential nutrients and increase natural elastin and collagen production.  This facial regenerates and rehydrates the skin reducing fine lines and repairs and protects against photo-damage and pollution.
Deep Cleanse and High Frequency
15 mins
£32
Anti-bactericidal – great for spots
Teenage Facial
45 mins
£50
Deep Cleanse, Exfoliation, Extraction & High Frequency – anti-bactericidal.
CACI Acne Treatment
20 mins
£43
Course of 10
£387
Blue and Red LED light therapy is used to help destroy and inhibit the growth of bacteria that causes painful breakouts.  A course of treatment is recommended with top up treatments when necessary.
Aromatic Facial
45 mins
£60
Deeply relaxing, facial with essential oils created especially for you.  Soothing and rebalancing.
Deep Cleanse Steam Facial
1 hour
£60
Most suitable for oily, problem skins, includes exfoliator, steam, extraction, mask and high frequency.           
Swiss Collagen Facial
1 hour
£61
Superb intensive hydrating, plumping, firming and lifting facial:  your skin looks and feels fabulous. 
For best results 3 to 5 facials on a weekly basis, with  monthly top-ups. 
Advanced Aesthetic Treatments
Red Vein/Spider Naevus/Blood Spot Treatment
15 mins
£70
Facial red veins are permanently dilated capillaries.  They have very thin walls which constantly dilate and constrict.  As we age these vessels lose their elasticity and can become permanently dilated.
A Spider Naevus is a central dilated blood vessel with smaller capillaries radiating from it like the legs of a spider. 
Campbell-de-Morgan [blood spots] are bright red vascular blemishes which lie just under the surface of the skin.  They are dome shaped or slightly raised spots.
Skin Tag and Milia Removal
15 mins
£70
Common skin imperfections removed easily and effectively.
All the above areas treatable by electrolysis with minimum or very little discomfort.
Ecolite IPL Skin Perfection, Blemish Improvement, Acne, Rosacea, Sun Damage and Thread Veins
Ecolite significantly reduces or removes blemishes, marks and other skin imperfections to produce a more even skin tone;  including effective treatment of rosacea, acne, reduction/removal of thread veins.  Visibly rejuvenating skin and producing noticeable anti-ageing benefits.
In depth consultation and patch test 48 hours before any of the above treatments is essential.
Full Face
Full Face and Neck
Decolletage [chest]
Neck
Cheeks
Nose
Hands
Single Session

£230
£300
£200
£80
£100
£50
£60
Course of 3
[10% off]
£621
£810
£540
£216
£270
£135
£160
Course of 6
[Buy 5 get 1 free]
£1150
£1500
£1000
£400
£500
£250
£300
Micro-Pigmentation Cosmetic Enhancement
Also known as semi-permanent makeup – whereby hypo-allergenic pigments are implanted into the dermal layer of the skin to give a natural looking perfectly applied make-up.  Caroline Smith micro-pigmentation practitioner and trainer from the Permanent Cosmetic Enhancement Clinic carries out these treatments. Telephone: 07786 373 197 or go to
www.PermanentCosmeticEnhancement.com
Can't decide ~ please ring the salon if you would like to discuss any of our facial treatments or come in for a consultation so that we can talk through the different options for you.  All our consultations are free of charge.
We are open Tuesday to Saturday, closed on Monday & Sunday
Gift Vouchers a wonderful treat or present for someone special.
Valid for 3 months.