About the Susanne Saville Beauty Clinic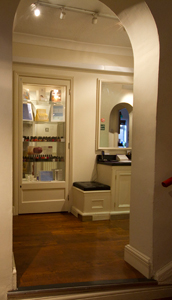 Susanne Saville has over 40 years of experience in the field of beauty therapy and founded The Susanne Saville Beauty Clinic and School of Beauty Therapy in 1973, where Susanne was Principal until 1995.
At the Susanne Saville Beauty Clinic we provide a relaxing, friendly environment together with the highest standards in beauty therapy.  All new treatments and products are carefully researched and with our wealth of experience you are assured of the best treatments available by highly skilled, experienced and knowledgeable therapists.
With over  ten years of experience in IPL Technology for Permanent Hair Reduction for women and men, we are skilled and knowledgeable with this procedure.  This treatment  is carried out by Katie, Rose & Angie.
Your treatment with us
We always ensure plenty of time for your treatment and you won't ever feel as if your treatment is being rushed.  We want you to have a relaxing, enjoyable experience whilst at our clinic and if you need  anything extra such as more warmth, extra blankets, no music or anything else, you only have to ask.
Consultations
Consultations, although not always necessary, are an essential part of our work in order to carry out the correct procedures. Certain treatments may be contra-indicated if you start or change medication, therefore, we may have to make  necessary adjustments to your treatment.  We also ask you to follow carefully any verbal or written instructions given to you to obtain the best results from your treatment.

We are proud of our reputation and we look forward to helping you soon.
We are here to help ~ call us today and speak to one of our experienced team    ~    Katie, Rose, Angie, Natalie or Susanne
We are open Tuesday to Saturday, closed on Monday & Sunday
Gift Vouchers a wonderful treat or present for someone special.
Valid for 3 months.