Body Treatments
The benefits of body massage are many and includes improved circulation, stimulating lymph activity, relieving tension, detoxifying, and easing muscle knots and spasms.  A deeply relaxing therapeutic treat for your body!
| | | |
| --- | --- | --- |
| Back Massage | 30 minutes | £35 |
| Body Massage | 1 hour            | £55 |
| Body and Face Massage | 1 ½ hour | £70 |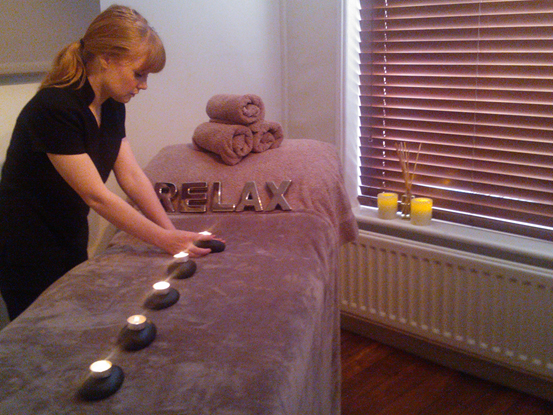 Our aromatic oils created especially for you combined with deep massage to relax and unwind your body, easing out tension and knots.
Deep Cleansing Back Treatment     1 hour            £50
Decongesting, purifying back treatment, which includes exfoliator, steam, massage,  mask and high frequency for an anti-bactericidal effect.  Great after the winter cover up or from using too much sun cream on your holiday.
Reflexology                                          45 mins                             £39    
Therapeutic pressure point foot massage normalises functions of the body for perfect metabolic balance, which in turn leaves you feeling relaxed and renewed.
Indian Head Massage                       45 mins                    £39
Blissful therapeutic massage of the upper back, shoulders, neck, scalp and face offering total distressing of mind and body.
Go to Sclerotherapy Page for treatment of thread veins to the legs
Go to Face Page for red vein/skin tag/milia and Campbell-de-Morgan [blood spot] removal
Go to Offers Page for information on Ear Piercing
We are open Monday to Saturday, closed on Sunday
Gift Vouchers a wonderful treat or present for someone special.
Valid for 3 months.