Hair removal clinic in Farnham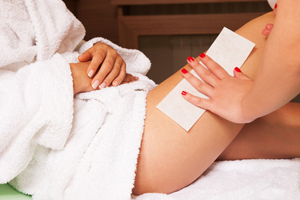 Are you looking for a trusted beautician to help you get rid of unwanted hair from your face or body? Then look no further! Susanne Saville Beauty Clinic specialises in all kinds of hair removal, including Ecolite IPL Technology, electrolysis and strip and hot wax for perfect results. We are based in Farnham and have a strong and loyal customer base in Farnham, Wrecclesham and the nearby areas in Surrey.
We have over 40 years' experience in the field of beauty and provide a friendly and relaxed environment for all your beauty treatments. So whether you are after a back wax, electrolysis or facial hair removal of any kind, call us today on 01252 726 358 and we can talk you through the various options available.
Ecolite IPL Technology – how does it work?
Are you fed up of waxing and shaving? Our Farnham beauty salon offers Ecolite IPL Techology, a painless and effective way to get hair-free skin.

Intense Pulse Light Systems are an effective way of removing unwanted hair from the face or body and normally several sessions are needed to achieve the desired results. The system works by producing a high intensity flash of filtered light from the applicator, which is placed in contact with the skin. The energy from the light is absorbed by the pigment melanin, which gives the hair its colour. The hair acts as a conductor of the light and effectively turns it into heat to raise the temperature of the surrounding cells, making them incapable of producing further hair growth. Thick hair is the first to go due to the larger concentration of melanin, giving maximum absorption and conversion of light energy, which targets the hair to permanently reduce hair growth. Unlike electrolysis the treatment is non-invasive.
Single sessions start from £50, for a course of three sessions, we offer 10 per cent off and for a course of six sessions, we have a buy five, get one free offer. For more details of our pricing structure, click here.
Waxing in Farnham
We offer two types of waxing in our Farnham beauty salon – strip wax, which works for normal hair growth and original hot wax, which works better on strong bikini line and underarm hair. We offer a huge range of options from underarm, Brazilian and Hollywood bikini waxes to lip and chin waxing, with prices starting at just £15.
Electrolysis in Farnham
Electrolysis is a slow, one by one destruction of your hair follicles by electricity that is sent through a small needle inserted into the root of the hair follicle, zapping it to prevent re-growth. This is a proven to be a very effective way to get rid of hair and we can offer advice on frequency and timing to achieve your desired results. Sessions start at just £20.
Call your Farnham hair removal experts today!
To speak to one of our friendly team at Susanne Saville beauty, phone us on 01252 726 358 and we would be delighted to help. We are open six days a week, with after-work appointments for your convenience and also offer gift vouchers.
We are open Tuesday to Saturday, closed on Monday & Sunday
Gift Vouchers a wonderful treat or present for someone special.
Valid for 3 months.